Roberts® 3000
Roberts® 3000 is a carpet and sheet vinyl adhesive developed with a longer open time for the optimal positioning of felt-back vinyl flooring while it will also develop tack for the installation of most types of commercial carpets.
Residential to light commercial grade
Good positioning time for felt-back sheet vinyl
Longer open time
Solvent free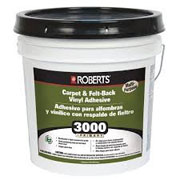 Roberts® 3300 Premium Multi-purpose Carpet Adhesive
Roberts 3300 is a superior grade multipurpose carpet and felt-back vinyl adhesive developed for the installation of most types of commercial carpet and felt-backed sheet vinyl floor coverings.
Heavy traffic areas
Strong grab reduces bubbling and curling
High rebond
Solvent free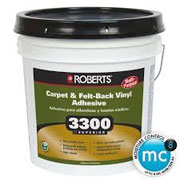 Parabond M4099 Premium Multi-Purpose Carpet Adhesive
Signature Series 4099 high performance multi-purpose adhesive is recommended for the installation of most carpet backings used in heavy commercial applications. 4099 is extremely aggressive, quickly developing "tack" for those "hard to hold" installations resulting in saving time and money. 4099 is the perfect choice, whether installing carpet with Action-Bac or the more difficult to hold backings such as latex unitary, hot melt, enhancer types and most of the majority of carpet backings found in the market place today. 4099 is also recommended for the installation of fibrous backed resilient floor covering.
Roberts® R3080 Carpet and Felt Adhesive
Roberts® R3080 is a fast setting mid-range adhesive that offers a reduced open time and quick leg development. It is the perfect adhesive for jobs that require quick installation time.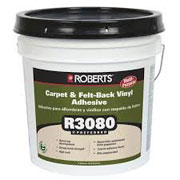 Roberts® R6040 Flammable Outdoor Adhesive
Roberts® R6040 is a superior grade outdoor carpet adhesive developed for exterior installations of most types of outdoor commercial carpets.
List Heading
Commercial-grade
Creamy consistency
Waterproof when dry
Extremely flammable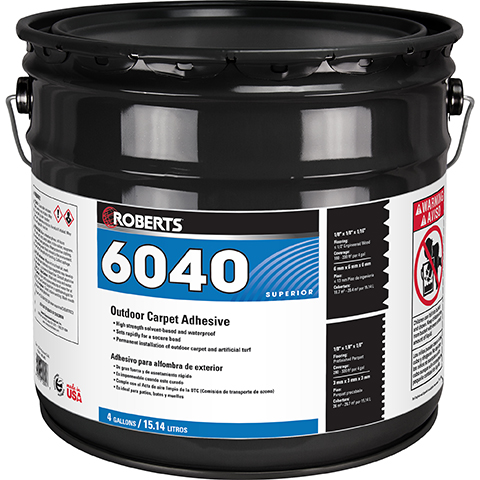 Roberts 6700 Indoor/Outdoor Carpet Adhesive
Roberts 6700 is a solvent-free adhesive designed for the exterior or interior installation of indoor/ outdoor carpet. This adhesive is ideal for interior patios or sunrooms as well as basements.
For interior and exterior installations
Ideal for decks, sunrooms and basements
Excellent moisture resistance when cured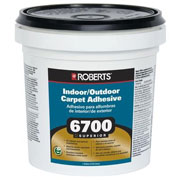 Capitol PS100 Pressure Sensitive Adhesive
Capitol PS100 is a very versatile, pressure sensitive, acrylic-based adhesive designed for the installation of carpet tiles, commercial carpet cushions and solid vinyl tile.
Features:
Plasticizer migration resistant
Remains pressure sensitive for easy replacement of modular tiles and cushion removal
Versatile application - apply with trowel, roller or brush
CRI certified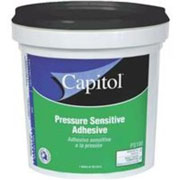 CHAPCO 155 Multi-Purpose Carpet ADH
A moderate multi-purpose adhesive formulated to spread easily and provide excellent green strength for carpet and ample open-time for felt/mineral backed vinyl installations.
Multi-purpose Adhesive