Adhesives for Hardwood Flooring Projects & Repairs
Roberts® R1530
Roberts® R1530 is a solvent-free, 100%-solids, moisture-cured urethane product that performs as an all-in-one, single application, adhesive, moisture vapor barrier and sound reducer for wood and bamboo flooring installations. It helps to protect against unforeseen moisture vapors emissions that can destroy a wood flooring installation.
All-in-One
Bamboo and wood flooring adhesive
Moisture vapor barrier
Sound reducer ( IIC 71*, STC 67 *, ¬IIC 22 )
One product does it all!
Moisture Cure Urethane
Incredible bond strength
Use to install all types of wood and bamboo flooring
100% solids – no water or solvents
Easy clean-up with R5505
Enviro Friendly
Solvent free
VOC: 0 g/L and 0% by weight
VOC compliant adhesive that exceeds the strict requirements of the South Coast Air Quality Management District. May contribute to one or more LEED points.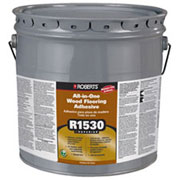 Mapei Ultrabond ECO-980
Premium Urethane Adhesive for Hardwood Flooring
Ultrabond ECO 980 is a 100%-solids, one-component, moisture-cured urethane adhesive specifically designed for the installation of domestic and exotic solid and engineered wood flooring, including bamboo.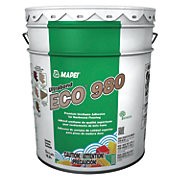 Mapei Ultrabond ECO-975
Standard Urethane Adhesive for Hardwood FlooringSub Heading
Ultrabond ECO 975 is a 100%-solids, one-component, moisture-cured urethane adhesive specifically designed for the installation of domestic solid and engineered wood flooring.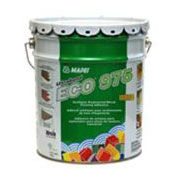 Bostik Pro-Cure
BOSTIK'S PRO-CURE is a PROfessional grade, moisture-CURE urethane adhesive for wood flooring; this adhesive does NOT contain any water. PRO-CURE may be used to adhere all engineered, acrylic impregnated, solid plank-flat milled, shorts, bamboo and parquet hardwood flooring designed and recommended in writing by the hardwood flooring manufacturer for glue-down applications. This adhesive can also be used to install plywood as described, as well as, ceramic tile, marble, and stone inlays for light commercial and/or residential applications.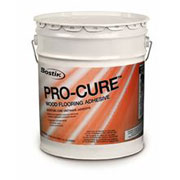 Mapei Ultrabond ECO-995
Premium Moisture-Control, Sound-Reduction and Wood-Flooring Adhesive
Ultrabond ECO 995 is MAPEI's premium, 100%-solids, one-component, moisture-curing urethane adhesive for all types of wood flooring and bamboo. Ultrabond ECO 995 can be used in a single-coat application method that provides a superior bond and moisture vapor emission control on concrete slabs. Ultrabond ECO 995 also provides sound-reduction properties, making it suitable for use in multi-unit housing projects.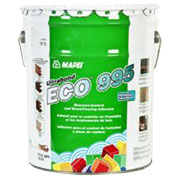 Parabond® Millenium Series 2009
Parabond® Flooring Adhesives Product Details
Product: Millennium Series 2009 Premium Wood Flooring Adhesive Wood Adhesives
2009 is the ultimate engineered wood-flooring adhesive that can be used to install domestic species solids (i.e., oak, maple, hickory, ash etc.). It is formulated with a proprietary QUAD-POLYMERIC formula for installing all wood flooring widths and thickness. It can be used over a wide variety of sub-floors.